(tap tap) Is this thing on?
I kind of wonder who out there reads blogs. I've wondered if anyone is reading this one too. Heh. Why not try an experiment! I love that type of stuff. In advertising we see ads targeted to see what kind of feedback comes back. Sometimes you do a special where you know that if someone asks for that deal, then they had to see that ad. I figured I might try the same thing.
I've been thinking about coming out with my own coin. I have been working on art and all that stuff for a few weeks now. We are officially going into production right now. How about a quick look at the artwork!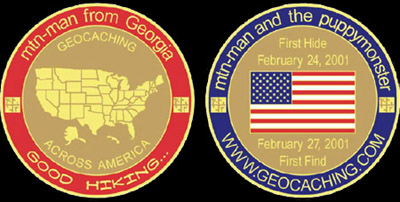 I hope people like them. They will be 24k gold plated with enamel fills as you can see. The recessed gold is darker than the polished gold. This will help the US map show more against the background. I hope the effect looks good. They are due in around the end of February.
Now for the deal. The first active geocacher that emails me from
my web site email submission form page
will get a free coin when they come in. You will need to give me your geonick (geocaching.com user name), your real name and your mailing address when you email me. Once someone emails me I will update this blog and let you know who was quick on the draw.
EDITED 1-28-06 2:20PM: We have a winner already!!!
Thanks Fro.
I'm excited about them. I hope you all will like them too.